Compound Cone Crushers are Highly Appreciated by Customers
29/04/2014
In recent years, there has been an upsurge for the construction of high speed railway and highway, which stimulates many quarries to spring up all over the country. These quarries have produced a large amount of high quality sand materials which can be widely used in all the construction projects including the high speed railway and expressway construction.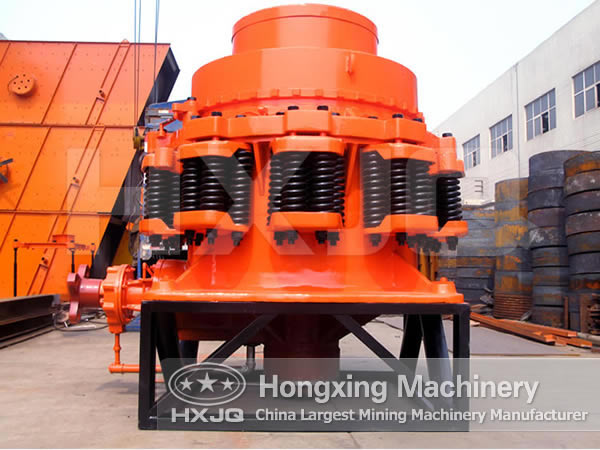 The sand making production line of the domestic quarries is made up of the feeding machine, jaw crusher, compound cone crusher and circular vibrating screen etc. The lime stone is the main material that is processed by the sand making production line. Considering the hardness of the lime stone, the quarry particularly arranges the compound cone crusher with the features of high reduction ratio, high crushing efficiency, low cost and simple adjustment in the production line.
The compound cone crusher is a professional crushing machine to break hard and super hard stone materials. It's been proved that the compound cone crusher plays an irreplaceable role in the sand making production line. The crusher adopts the material layering crushing system. When the crushing cavity is filled with the feeding materials, it starts to squeeze, cut, rub and crush the materials by avoiding the direct contact with the crushing cavity. The compound cone crusher can produce finished products with different particle sizes and the adjustable crushing cavity space makes it easy for users to change the crushing proportion. Compared with other crushers, this machine realizes the long service life and low wear parts consumption.
Product
NEWS & EVENTS
CONTACT US
Thank you for your attention. If there is any question, please contact us through the following ways.
E-mail:machine@hxjq.com
Tel:+0086-371-67833171