Our Magnetic Separator Adopts Isolation Technology
24/10/2014
In order to know well about the magnetic separator used for copper mine beneficiation, our company will introduce to you about the main development trend of the separation technology applied by the magnetic separator.
As we all know, the magnetic separator plays an important role in the copper mine beneficiation and production, so it's necessary to select qualified magnetic separator when purchasing copper mine beneficiation equipment.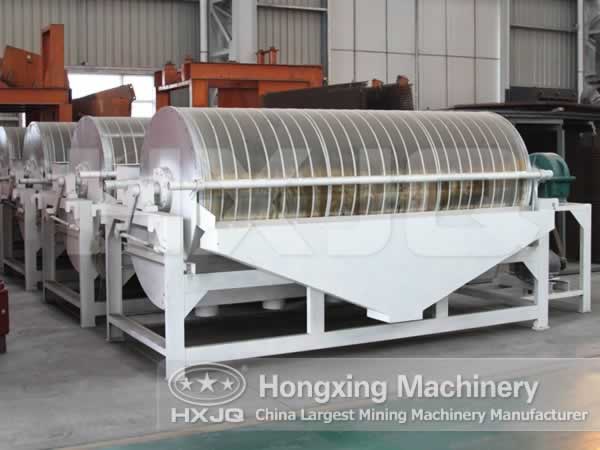 There are two main methods to separate rough weak magnetic minerals using the copper beneficiation equipment: dry classification and wet classification. The application of the isolation technology will reduce the material handling expense, power consumption, water consumption and magnetic medium consumption as well as simplify maintenance and operation. Additionally, the developing direction will transform the permanent magnet to the electromagnetism.
In early years, the permanent magnetic separators used within the country are all imported from abroad, but as China's production capability of independent research and development gets stronger, the magnetic separator made in China becomes the leading model in the mining industry and it will replace the imported magnetic separator.
At present, the magnetic separator has developed in the large scale and the magnetic induction intensity has been increased to great extent. There are many kinds of magnetic separators with the adjustable speed and different diameters, field intensities and magnetic poles.
Our company has researched and developed independently the magnetic separator with the maximum diameter of 1500mm and the maximum particle size of the handled materials. We can select and arrange the whole set of equipment according to customers' requirement.
Product
NEWS & EVENTS
CONTACT US
Thank you for your attention. If there is any question, please contact us through the following ways.
E-mail:machine@hxjq.com
Tel:+0086-371-67833171