Introduce the Application Field and Characteristics of Classifier
15/03/2013
Classifier is widely used in the dressing plant. The combination of classifier and ball mill will form closed circulation to distinguish the mineral and sands. In the gravity dressing plant, it can grade the ore mud with different particle sizes. In the ore washing work, it can be used during the desliming and dewatering operations. This machine has the characteristics of simple structure, reliable work, and convenient operation.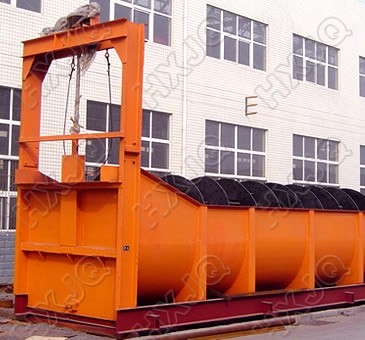 The Performance Advantages and Characteristics of Classifier:
1. Low power consumption: compared with other horizontal classifier and vertical classifier, it can reduce 50% of power consumption under the same condition.
2. High efficiency: compared with other horizontal classifier and vertical classifier, the efficiency can improve about 50% under the same condition.
3. High precision: the higher grading fineness can greatly reduce the screen tailings.
4. Low rotation speed: with the same granularity, the rotation speed of the machine can reduce about 50%.
5. High production: the production of large machine can reach 50t/h.
6. Whole structure: this machine can be equipped with different structure according to the different requirement.
7. It can form a closed-circuit or open-circuit system with the ball mill, Raymond mill, impact mill, jet mill grinding equipment.
8. Negative pressure production, no dust pollution, good environment.
9. High degree of automation, high stability, easy operation.
Product
NEWS & EVENTS
CONTACT US
Thank you for your attention. If there is any question, please contact us through the following ways.
E-mail:machine@hxjq.com
Tel:+86-371-67833171