Flotation Cell is a Good Machine
14/04/2013
As a new type of jet flotation machine, the flotation cell adopts the high-speed jet flow to shear the air and improve the inflatable performance. Through the strong mineralized zones and stable flotation area, the flotation cells can realize the good flotation performance.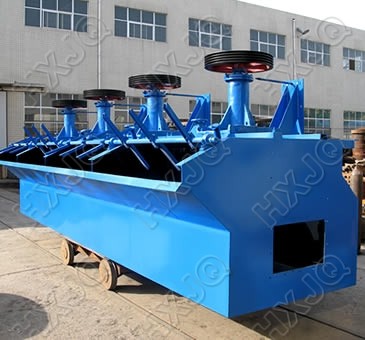 Flotation cell (mineral flotation cell) is driven by the motor. The negative pressure is produced by the centrifugal effect. The impeller can mix the ore pulp with the suction air and mix the ore pulp with the drug. It also can refine the foam, which will make the useful mineral connect with the foam. The foam that floats on the pulp surface will form mineralization foam. The adjustment of the disc height and control the flotation surface can help us to scrape the useful foam.
The inspiratory capacity of the flotation cell is big and its power consumption is low. Each flotation cell has the suction air function, suction slurry function and flotation function. The flotation circuit doesn't need any kind of auxiliary equipment. The horizontal configuration is convenient for the change of the flow process. The automatic device is convenient for the control of the pulp surface. The flotation cell impeller has the backward curved blades. The upper flotations leaves lead the upper pulp cycle, the lower leaves lead the lower pulp cycle.
Before the start of the flotation cells, we should check the bolt and rotate the leaves with hands instead of the motor to prevent the sediment deposition and the increasing of motor load. When it works, we should adjust the gate height to keep the stable liquid level and scrape the foam to the flow cell. The impeller and the stator should keep a certain distance and change the wear parts timely. We should maintain the bearing in the pump body every three months.
Product
NEWS & EVENTS
CONTACT US
Thank you for your attention. If there is any question, please contact us through the following ways.
E-mail:machine@hxjq.com
Tel:+86-371-67833171