Powder making machine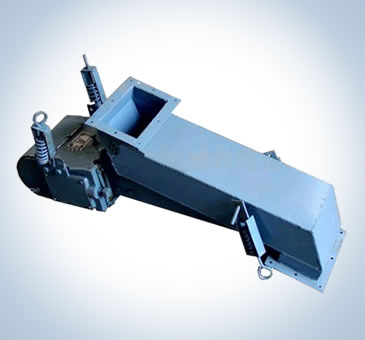 Feeder Manufacturer
This series of vibrating feeder is widely used in coal industry for quantitatively sending the raw coal and coal powder from the storage bin to the material receiving equipment
Features:
Without lubrication
simple structure
easy maintenance
1. Introduction to Vibratory Feeder
Vibratory feeder machine supplies quantitative material evenly for feeding equipment from storage bin or other storage equipment and it is the essential equipment carrying on assembly-line automation including two types: open type and close type. According to the installation ways it can be divided into suspended type and desktop type. The vibratory feeder is of simple structure, easy operation, low electricity consumption and it can adjust mineral ores feeding evenly, so it is used widely in industry, generally for bulk material. According to the equipment performance feature, it's better to reduce the material pressure on cell body; according to requirement from manufacturing factor, the workable discharging port of storage hopper should be smaller by 1/4 than body width, the material flow speed is controlled in 6-18m/min; according to large material feeding, one board for blocking mine should be designed at discharging port at the bottom of storage hopper, but in order not to affect the performance feature of Vibratory feeder, the block board can't be fixed on the cell body. Additionally, in order to discharge storage hopper successfully, the back wall obliquity of storage hopper should be designed 55-65 degrees.
2 Working Principle:
Vibrating feeder consists of the complete flexible system of two-particle orientation forced vibration, and the whole system works at the low critical resonance state. It mainly takes use of electric magnetic exciter to make reciprocating vibration so as to drive material to move. Material (2) is on the feeding body (1) supported by main vibrating spring (3), gab bit (4) combines with main vibrating spring of the cell body, and then loop (6) is wrapped on the iron core (5). Through half-wave rectifier, unindirectional pulsating current flows in the loop, therefore electromagnet corresponding produces pulse-electromagnetic force (Figure 2(b)). In the positive half circle of AC, pulsating current flows through the loop which creates pulsating electromagnetic suction between iron core and gab bit. Under the power of the suction, cell body moves backward, and the main spring of exciter deforms so as to store potential energy; in the negative half circle of AC, there is no current in the loop, the electromagnetic force disappears, and the iron core is separated with electromagnet by the spring force which drives the silo to move forward, and then the silo does continuously reciprocating vibrating with the AC frequency.
3 Structure of Vibrating Feeder
According to the structure, there are linear trough reciprocating vibrating feeder (short for linear vibrating feeder) and spiral chute twist vibrating feeder (short for disk type vibrating feeder), and two types have similar working principles. The linear type is generally used for powder, granular material and other no orientation material, and it can be used as the operating machine to clean, screen, dry and cool material; the disk type is commonly used for orientation material and mostly for transporting materials possessing certain shapes and sizes. Vibrating feeder mainly consists of silo, electromagnetic exciter and vibrating damper. The exciter consists of electromagnet (containing iron core and loop), gab bit and main vibrating spring installed between them above. The exciter is the vibrating focus producing vibrating and can be controlled through one certain control device.
4 The Technical Parameter:
Model
Items
Feeding
capacity
(t/h)
Power
(kw)
GZ1
5
60
GZ2
10
150
GZ3
25
200
GZ4
50
450
GZ5
100
650
5 Feeder Manufacturer:
Price details on vibrating feeder, please contact +86-371-67833171
Address of feeder manufacturer: No. 8 Tanxiang Road, High & New Technology Industries Development Zone of Zhengzhou, Henan, China
If you have a question about our products, we'd like to hear from you.Rest assured we won't share your name, address or phone number with anyone. We're passionate about our company and want to help any way we can. Thanks for taking the time to get in touch with us.
Email:machine@hxjq.comTel:+0086-371-67833171
Product
NEWS & EVENTS
CONTACT US
Thank you for your attention. If there is any question, please contact us through the following ways.
E-mail:machine@hxjq.com
Tel:+0086-371-67833171