Ore dressing machine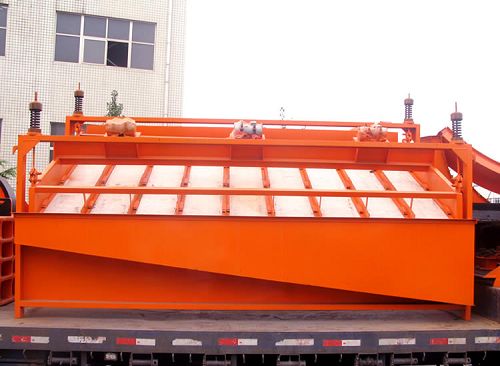 High Frequency Screen
High frequency screen is a grill vibrating with high frequency. Putting it on the upper part of the ore chute can prevent crumb or bulk materials that form a large group due to freeze or rust from going into the ore chute, otherwise the large-sized materials will accumulate on the bottom of the ore chute and cause blockage.
Features:
High efficiency
Small amplitude
Screening high frequency
1. Introduction to the high frequency screen
High frequency screen (high product sieve) is composed with vibrator, ore pulp distributor, screen frame, rack, suspension spring, sieve and other parts.
High frequency screen (high product sieve) has advantages of high efficiency, small amplitude, high frequency of screening. Compared with the general principle of screening equipment, high frequency screen (high product sieve) adopts the high-frequency vibration. On the one hand, it destroys the surface tension of ore pulp and accelerates the high-speed oscillation of the materials in the screen surface, which can greatly accelerate the separation of dense (specific gravity) useful mineral; on the other hand, it can increase the probability that the small sized materials can contact with the separation sieve. This will result in a better separation conditions. So that the material that is smaller than the separation size, the slurry and the heavy specific gravity will go through the sieve.
2. Working principle
High-frequency vibration fine sieve also referred to as the high-frequency sieve. It is grading equipment in the dressing plant. Depending on the different grate seam width of application screen surface, it can grad the materials according to the particle size. In the grinding circuit, it can control and grade the grinding minerals. The coarse material will returns to the mill for regrinding. The fine grain can be discharged timely to avoid excessive grind. Sieving out the materials on time that has achieved the fineness requirement can improve mill output, reduce energy consumption and improve efficiency. High frequency screen installed in the mineral processing circuit can screen out the coarse concentrates and sent them to the mill for regrinding. Selecting the fine particle under the sieve can improve the concentrate grade.
3. Technological parameters
Specification
Model
Processing
capacity(t/h)
Power
(kw)
GPS-4
15-25
0.72
GPS-5
20-30
1.1
GPS-6
24-36
1.5
GPS-8
32-48
2.2
If you have a question about our products, we'd like to hear from you.Rest assured we won't share your name, address or phone number with anyone. We're passionate about our company and want to help any way we can. Thanks for taking the time to get in touch with us.
Email:machine@hxjq.comTel:+0086-371-67833171
Product
NEWS & EVENTS
CONTACT US
Thank you for your attention. If there is any question, please contact us through the following ways.
E-mail:machine@hxjq.com
Tel:+0086-371-67833171