Stone crushing machine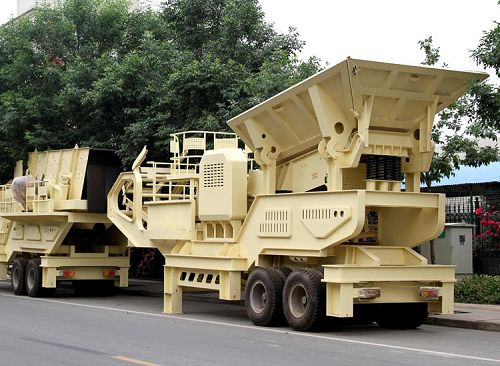 Mobile Crushers
Mobile crusher is integrated with the processing equipment of feeding, crushing and conveying machines and the optimization of the technical process makes it have the crushing and processing performance of stone crushing, aggregate production and open-pit quarrying.
Features:
Reduce material
Flexibility
Used independently
1.The Introduction to Mobile Crusher and Mobile Crushing Plant
Mobile crusher is one advanced rock crushing machine, which enormously develops the concept area on the crushing operation, and its designing theory is built on the status of the customers, which takes the excluding the crushing jobsites and circumstance as the primary handling solution for customer and which also provides the hardware equipment with higher working efficiency and low cost for the customers. The mobile crusher is the key equipment to the mobile crushine station. Nowadays, the mobile crushing station has a wide application scope in the construction field.

The performance characteristics of mobile crushing plant: PE series higher efficiency crushing machine, the feeder, vibrating screen, belt conveyor, vehicle mounting, steering traction axis which is convenient to deeply transport in the jobsites in order to realize the automation of the mining electric motor.
2. Stone Crushing Plant The Applying Scope
① The mobile crushing plant is widely used in mining, coal, garbage and construction waste recycling, earthwork, urban infrastructure, roads or construction sites and site operations。
② Topsoil and a variety of other materials processing; Separation viscous coagulation aggregate; construction and demolition industry; broken after the screening; quarrying industry.
③ River pebbles, rocks (limestone, granite, basalt, debase, ore tailings, the artificial sand stone chips.

3. The China Mobile Crushing Machine
Zhengzhou Hongxing can produce the best and the most practical mobile crushing machine and we welcome you to choose and purchase.
The international trade: +86-371-67833171
The company fax: +86-371-67825066
the address of china mobile crushing machine: Tanxiang Road, High & New Technology Industries Development Zone of Zhengzhou city, P.R. China
If you have a question about our products, we'd like to hear from you.Rest assured we won't share your name, address or phone number with anyone. We're passionate about our company and want to help any way we can. Thanks for taking the time to get in touch with us.
Email:machine@hxjq.comTel:+0086-371-67833171
Product
NEWS & EVENTS
CONTACT US
Thank you for your attention. If there is any question, please contact us through the following ways.
E-mail:machine@hxjq.com
Tel:+0086-371-67833171